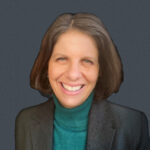 Vice President
Elyse Wasch comes to Penn Hill Group with more than 25 years of experience in legislative policy, strategy and management on a wide range of topics from education to technology policy, as well as vast institutional knowledge of the Congressional appropriations and reauthorization processes. As a Vice President at Penn Hill Group, Elyse works with clients to develop and advance Federal education, library and workforce policy.
Prior to joining Penn Hill, Elyse worked for more than 16 years for Senator Jack Reed (D-RI) as his Legislative Director and Deputy Chief of Staff. In those roles, Elyse led the Senator's legislative staff to successfully achieve priorities on a bipartisan basis relating to education, workforce development, unemployment, health care, housing, defense and immigration in laws such as COVID-19 relief legislation, appropriations measures and the National Defense Authorization Act (NDAA). Utilizing her broad experience and deep understanding of key policy areas, Elyse collaborated with members of several Administrations, other members of Congress and stakeholders to help create and implement policy to respond to some of the nation's most pressing needs. During her tenure in Senator Reed's office, Elyse secured funding for education, libraries and workforce-related programs in the Coronavirus Aid, Relief, and Economic Security (CARES) Act and the American Rescue Plan Act of 2021. She also was instrumental in the passage of the 2018 and 2010 Museum and Library Services Acts.
Elyse was previously a Legislative Assistant for Senator Reed when he was a member of the Health, Education, Labor, and Pensions Committee, focusing on policy related to education, libraries, technology, disability, women and children. On these issues, Elyse was Senator Reed's chief policy advisor and lead negotiator on the Higher Education Act (HEA), Elementary and Secondary Education Act (ESEA), Individuals with Disabilities Education Act (IDEA), the Workforce Investment Act (WIA) and the Education Sciences Reform Act. Elyse played a significant role in reforming and enhancing the HEA Title II professional development program and the Title IV student aid programs, reinstating a school library initiative and adding requirements to encourage greater parental involvement in the ESEA and addressing the needs of adult learners and workers in WIA.
Earlier, Elyse served as a Legislative Assistant during the last year of Senator Reed's tenure in the House of Representatives, when he was on the House Education and Labor Committee. She began her career on Capitol Hill in the office of then-Senator Barbara Boxer (D-CA), working as a Legislative Aide on education and health care.
Elyse graduated from Brandeis University with a Bachelor of Arts in Politics as well as minors in Legal Studies and Classical Studies.
You can reach Elyse at ewasch@pennhillgroup.com.