On July 26-27, 2016, Penn Hill Group provided strategic convening support and content expertise to the Mozilla Foundation, who along with facilitation support by the IDEO Design for Learning team, held a design convening in Aurora, Colorado for states interested in exploring competency-based education and digital credentials. At the convening, Penn Hill Group's Danica Petroshius and Kara Marchione served as facilitators and resource experts, providing insight into the new flexibility offered by the Every Student Succeeds Act (ESSA).
To learn more about the convening, please go to the Mozilla Foundation's blog post at this link.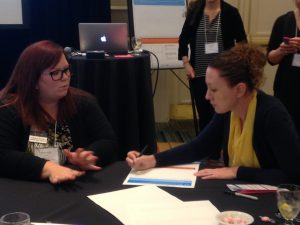 Penn Hill Group's Kara Marchione working together with a participant on a design activity.