Meet Penn Hill Group's Spring intern, Madeleine Furlow. Maddy is currently a Junior at Indiana University majoring in Law & Public Policy and minoring in Russian language. See below to learn about all that she brings to the Penn Hill Group team!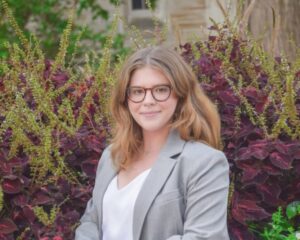 Why did you decide to spend a semester in DC? 
I decided to spend a semester in DC because I wanted to live and experience the culture, art, and lifestyle of the Capitol. This opportunity allows me to grow as an individual, learn more about myself and the future I want. It is a chance to explore new areas of policy and advocacy that ultimately enhance my professionalism. Washington, DC, was the perfect place to explore my interests in policy development, political theory, and social advocacy.
What do you hope to do or learn during this internship?
During my internship with Penn Hill Group, I hope to gain a deeper understanding of the legislative process, policy development, and how we benefit our communities through education. I hope to gain a unique perspective of these processes so I can serve students and educators in my future career. I want to understand how we help to evolve and improve education for the future through varying forms of advocacy. I want to improve as a writer, a reader, a researcher, and a communicator.
What interests you most about education?
A strong education system is of fundamental importance to our society, and everyone should have educational opportunities. Our lives, learning, innovation, and competition on a global stage hinge on a solid, diverse education system. Education is more than "reading, writing, and arithmetic." It has the responsibility to introduce the ideas of social awareness and civic engagement so that respect and compassion are instilled in students. This is what excites me about education. It is a journey with many paths and celebrating the differences we each bring to the system is important in its development.
What are some of your future goals?
Immediately after graduating college, I hope to work with an organization such as the Peace Corps or Teach For America. I'm most interested in public service work in the education sector. I hope to eventually go on to graduate school and return to the DC area to advocate for students and help them pursue their interests.