Meet Penn Hill Group's Summer intern, Jack Rafferty. Jack is a rising senior at Miami University of Ohio, majoring in History with a minor in Political Science. See our interview with Jack below to learn more about him and all that he brings to the Penn Hill Group team. Welcome, Jack!
Why did you decide to spend a semester in D.C.?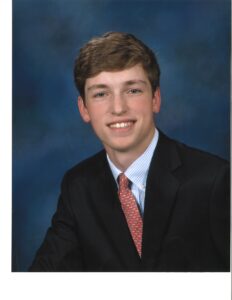 The main reason that I came to DC for the summer was to connect with the Federal level of government and get an opportunity to see how it works. I have always been intrigued by the idea of a career in the political or policy arenas so coming to D.C. for the summer was a blessing. I've had a lifelong passion for both history and politics and can think of no better place in the nation where the two interests are so interconnected than Washington D.C.
What do you hope to do or learn during this internship?
One primary thing that I hope to do or learn during this internship is witness first-hand how the Federal government works behind the scenes. I also hope to work with clients to understand their needs or interests, and then explore how policies can be developed or influenced to advance those interests.  Education is the bedrock of our society.  Improving education policy is a way to have immediate impact on our nation.  I want to see how that works.  I also hope to learn how to work well within a team, to thoroughly understand the mission and to develop solutions through cooperation, hard work, and thorough analysis. I think it is a great opportunity to work for Penn Hill Group, especially during the trying times that have come as a by-product of the COVID-19 pandemic and how it subsequently impacts both higher education and K-12. As a rising senior at Miami University, I can see how policymakers and educators are cooperating and responding to a crisis that will have direct impacts upon my own education and the education of my generation. Ultimately, I hope to add to my skills of communication and teamwork in a professional environment that deals directly with Federal policy, which I believe will be applicable to my future career.
What interests you most about education?
I believe that education is extremely important to the development of adolescents into strong and intelligent men and women. Therefore, creating equal access to people from all walks of life, regardless of their status or access to resources, is incredibly important to my own life and to the wellbeing of the nation.  Within my own family, we have generations of educators who have had a dramatic impact upon not only  my life, but the lives of the generations that came before me and have enabled me to be in the position that I am in right now. I understand directly the impact that educators have, not only upon their students, but on the communities surrounding them. To build strong people is to educate them. As Martin Luther King, Jr. said, "Intelligence plus character – that is the goal of true education."
What are some of your future goals?
I hope to attend law school after I graduate. As early as I can remember, I have wanted to be a lawyer and follow in the footsteps of my father, who is my ultimate role model. As of late, however, I have had a budding interest in joining either the FBI or CIA, as law enforcement or intelligence gathering are extremely interesting to me. My lifelong passions of history and study of political science in school make political work and civil service attractive options as well. Another aspiration that I have is to write a book about the American military involvement in either the Middle East or Vietnam.